Machine & Chemical Products Sales / Maintenance Work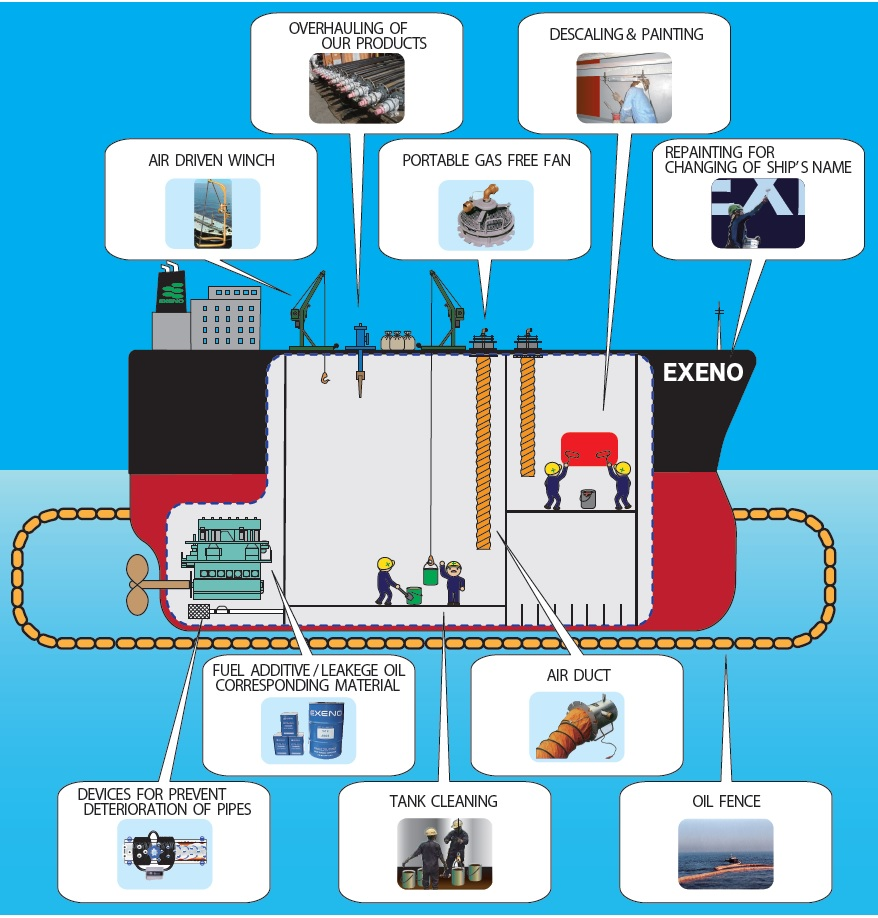 We are servicing in the supervision and maintenance work.
We have been carrying out the operation of tank cleaning, descaling & painting and etc for the marine and industrial field for many years in Japan and the foreign countries such as Singapore, China and others and also on voyage.
We have many experiences and built a good reputation especially in the marine industrial.
Utilizing its work experience, we are servicing mainly in the manufacture & sale of marine machinery and sale of chemical products which are being carried on since established the company. In addition to the different field, we develop, produce and sale the various cleaners for "Bowling" through our knowledge and experience of the development of chemical product.
We aim to provide excellent services and continue to develop and produce new products.
Main products handled
Machinery For Ship
・Portable Gas Free Fan
・Air Driven Winch
・Special Nozzle for Washing in Cargo Hold Tank
・Deck Washing Machine
・Membrane Type Controlled Air Dehumidification Devices
・Equipment for Prevents Corrosive Deterioration and Scaling Of Pipes
 
Materials For Prevention Of Environmental Pollution
・Oil Spill Dispersants
・Oil Fence
・Oil Absorbents
 
Chemical Products
・Various Cleaner for Ship & Industrial
・Prevents for Growth of Marine Microorganisms
・Anti-Wear Agents for Low Sulfur Fuels
・Cleaner Related to Bowling
 
Main services
Main place of services : Japan / Singapore / China / During the voyage
・Tank Cleaning
・Arrangement of disposal for oily waste
・Descaling and Painting (Hydro-Blasting / Power Tooling / etc)
・Repairing & Overhauling for our marine machinery
・Afloat & Voyage Repair
CONTACT US
For further information, please contact us at
Marine Supply Dept. [ Machine Products ]
Phone +81-3-6369-8023 kizai@exeno.co.jp
Marine Supply Dept. [ Chemical Products ]
Phone +81-3-6369-8021 kizai@exeno.co.jp
Marine Engineering Dept.
Phone +81-3-6369-8024 komu@exeno.co.jp